This is a recipe that gives you the opportunity to re-create some of your favorite Corfiot taverna recipes at home. It is called Sofrito – a classic Corfiot dish.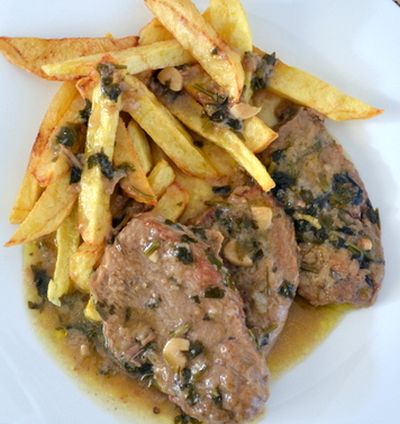 Ingredients
1.5 kg of round steak, thinly sliced. 4 cloves of garlic, chopped. 1 shot glass of vinegar. 1 shot glass of dry white wine. 1 bunch of fresh parsley, chopped (leaves and tender stems). 1 stalk of rosemary with leaves. 1 teaspoon of salt. 1 teaspoon of freshly ground black pepper. 2 tablespoons of olive oil. Olive oil for frying. Flour for dredging.
Instructions
In a frying pan large enough to hold the strips of meat lengthwise, add a little oil and bring it to a high heat. Put the flour on a large plate, dredge the strips of meat, and brown on both sides. Place in a large pot and set aside. In a clean frying pan, add two tablespoons of oil and bring to a medium heat. Saute the garlic and parsley. When the garlic starts to change color and the parsley wilts, add the pepper, salt, wine, and vinegar. Stir well and pour over the meat. Add enough water to the pot to barely cover the meat. Holding the handles, shake the pot gently to mix the ingredients without stirring. Cover and cook over a medium-low heat for about 1 hour and 15 minutes. At the point where it comes to a boil, add the rosemary and shake the pot gently.
Enjoy!